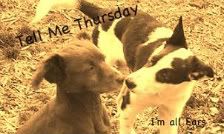 Hey, folks! I thought I would have time to at least pull up a full TMT lineup of questions this week, but I'm utterly swamped and there just isn't enough of me to go around. We'll be back in full force next week - so stay tuned!
So for this week I'm going to just put out an essay type question and let you all roll with it.
Here we go. I hate to say it but this one may not be a no-brainer exactly.
What obstacles have you overcome this week, and what did you learn from them?
This can be training obstacles, life obstacles, whatever obstacles you want to talk about.
Button link:
Link back: