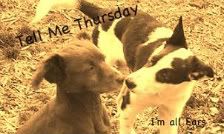 I actually forgot that today was Thursday until just now. Today's TMT is somewhat of a Free Form Edition. What I mean is that I'm going to give us all a broad topic, and I'm being intentionally vague because I'd like for everyone to feel like they can interpret it and answer it in ANY way they choose.
That being said, do me a favor. When you come back to link up please link to your specific post. Then, six months from now, we'll have it for comparison right at our fingertips. More or less. You'll see why when you see the question/topic.
So. Today's TMT Question/Topic is:
Going forward over the next six months, what are your goals?
Goals. I gotz them. For my life in general over the next six months:
1. Get my Zumba instructor license, and start teaching.
2. Get my finances all in a place that makes me happy (or at least be moving in that direction)
3. Clean up the potty mouth (how does this keep coming up on my list???)
4. Lose 35 pounds
5. Change my work circumstances
6. Make lots of lanyards to sell
7. Farmsit more
8. Get a new CrazyMobile. I don't WANT to add this one to my list. *sigh*
For the dogs:
1. Get Linc running in Open, or at the least ready for it. I guess this would involve actually making some trials. And working my dogs more regularly.
2. See how Pia progresses, and start her when she's ready. I'll probably give her a go about once every month or so until she seems ready. This may or may not fall into the six month time frame
3. Get Nick some places where I can stretch his outruns some.
4. Try to know when it's time to do the right thing for Zippy. I don't want him to linger and suffer. I don't think that time is too far off, unfortunately.
5. Get my dogs all worked more regularly.
This isn't a goal specifically, but I've been tossing around the idea of writing a book. About chickens.
My overall general goal over the next six months is to put myself into a place where I'm doing more in my life than just existing. More than just surviving. I guess in this world and this economy there are probably a LOT of people that are just surviving. I know I'm not alone. But I'm over it. SO over it.
In six months we'll do this again - and compare to see where we are in accomplishing our goals. Goals are good. They keep us grounded and motivated!
Have a great weekend everyone!
Here is your code:
And here is the linky thingie: